Outreach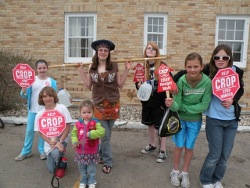 Barnes County Food Pantry:
The first Sunday of each month people donate canned goods, rice, beans, cereal and staples.
Abused Person Outreach Center:
The third Sunday of each month people donate adult and baby toiletry items including soap, shampoo and diapers.
Missionary for a Day:
Our Savior´s has committed to financial and spiritual support to Willie and Anne Langdji, ELCA Missionaries serving as Regional Representatives in Western Africa. To directly support this ministry, individuals put their names on specific date(s) on a calendar located on the bulletin board across from the pastors´ offices. Donation is $20 per day.
Global Health Ministries:
Our congregation supports and encourages the ministry of Global Health Ministries. The organization´s mission is to continue the healing ministry of Jesus Christ by enhancing health care programs of Lutheran Churches in other countries.
Crop Walk:
Members of Our Savior´s participate in this event, held each spring, to raise funds to end hunger locally and around the world.
Additional outreach opportunities are announced and promoted at various times throughout the year.
---
If you have any questions or comments, please give us a call at 701-845-1328.