What to Expect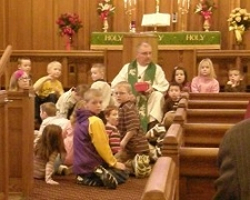 The best way to learn about our community is to visit us on a Sunday morning. Join us for a worship service. As you enter the worship space, an usher will give you a bulletin with an order of service. Typically, the service begins with Confession and Forgiveness, where we turn to God in prayer and are reminded of the forgiveness we are given in Jesus. We sing, pray and read the Bible together. We hear a message connecting the Bible´s story to our stories. We celebrate Holy Communion each week.
Families are encouraged to worship together. Each week children are invited to come forward for a message just for them. The noise of children in worship is welcome. Activity bags for children, with coloring sheets, crayons and books, are available for your use during worship. Nursery space is available, if needed.
Between worship services, the Family Gathering Room is often buzzing with conversation. During the school year, Sunday School and an Adult Learning Time also go on during this time.
Most people dress up a little for Sunday morning worship here, wearing dress pants and nicer tops. Others wear jeans and t-shirts. You are welcome to come as you are.
Our building is handicap accessible in most areas. The most accessible entrance is located near the parking lot across the street from the high school.
If you have any questions, please give us a call at (701) 458-1328, drop us an email at oslcvalleycity@msn.com, or just stop by the church building located at the corner of 3rd St. NW and 2nd Ave NW. We´ll do what we can to provide an answer.