Youth
"But Jesus said, 'Let the little children come to Me, and do not forbid them; for of such is the kingdom of heaven."
- Matthew 19:14
---
Pre-K - 6th grade:
Sunday School (September - May)
Sundays from 9:45am - 10:45am
Pre-K through 6th grade students explore the Old and New Testament stories using the "Spark" Curriculum. Teachers provide additional focus on the Commandments, Apostle's Creed, and the Lord's Prayer. Servant projects for our community are also included throughout the year. Youth enjoy sharing God's message through songs at worship services and also at the annual Christmas Program!
Kids for Christ (September - May)
Wednesdays from 3:30pm - 5:00pm
K through 6th grade will come together to have thought provoking discussions and partake in activities to learn more about our faith. Servant projects will also be incorporated throughout the year as we learn more about how we can be good servants to others in our community and around the world.
Vacation Bible School (VBS)
Coming in June 2019!
What better way to share in the fun of learning God's Word than to attend Vacation Bible School! Dates for VBS 2019 will be set sometime this fall, so be on the lookout and mark your calendars!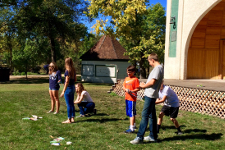 Red Willow Bible Camp
Red Willow Bible Camp is an amazing place for your child to grow in their faith alongside their friends. Many activities and events take place throughout the school year and their camp schedule for next year will be released soon as well! Get these awesome events on your calendar now so that you don't miss out! Check out the link below for all schedules and more information.
Jr. High:
Confirmation (September - May)
Wednesdays from 6:00pm - 8:00pm
Confirmation classes are held for youth in grades 7-9. In the 2018-2019 school year, we will study the New Testament. The evening begins with fellowship time and a meal together at 6:00pm. At 6:30pm students will take part in a presentation, small group activities, and time for reflection. Please contact the church office for more information.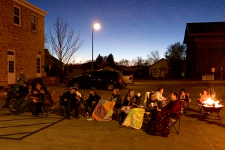 Sr. High:
Senior High Lunch (September - May)
Mondays at 12:15pm
Every Monday that there is school, students in grades 9-12 are invited to join us for a home cooked meal in the small dining room in the basement of the church. While we eat, we will discuss a daily devotion and enjoy time with friends. Please feel free to bring a friend!
Youth Director Office Hours (September - May)
Mondays and Tuesdays from 9:00am - 11:00am
If you have any questions or comments regarding the youth activities at Our Savior's Lutheran Church, please call our church office at 701-845-1328, or e-mail Kyla Fetsch, Director of Youth Ministries, at kylaoslc@outlook.com.